Workshop SHP tijdens da Vinci meeting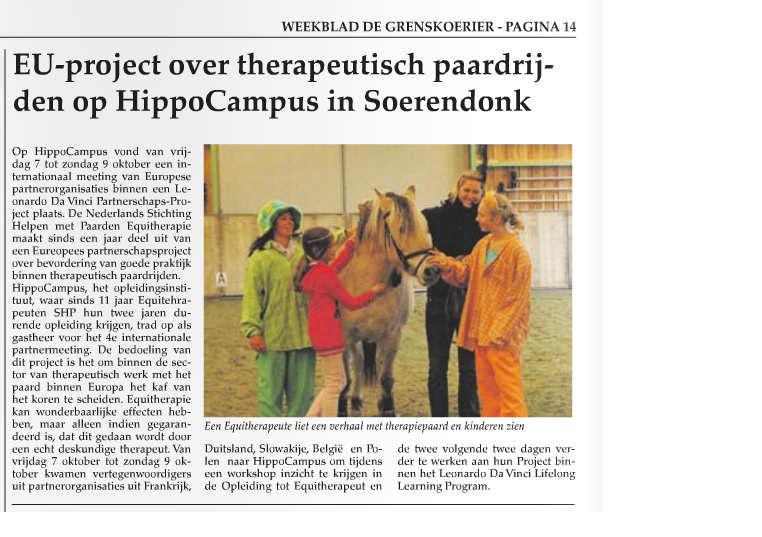 voor foto's van dit evenement zie ook fotos
Ervaring van een student in de EU-werkgroep
Op 7-8-9 oktober 2011 heeft er een internationale ontmoeting plaatsgevonden in Soerendonk.
Ik zal verslag doen van mijn ervaringen van 7 oktober. Tevens de dag van de bijscholing.
Op de agenda staat de rondleiding en de workshop van SHP.
Halverwege de ochtend druppelden de eerste deelnemers uit Belgie, Frankrijk en Duitsland en Slowakije binnen.
Na een heerlijke kop koffie leidde Ulrike de deelnemers rond over haar domein. Er was oprechte belangstelling voor zowel de gebouwen als de kudde paarden en hoe deze worden gehouden.
Het werd op deze manier duidelijk hoe de opleidingsplaats als een voorbeeld dient voor hoe therapiepaarden worden verzorgd en gehuisvest. Hoe de therapiepaarden ook opleidingspaarden zijn. Gedurende de opleiding worden de paarden aan de studenten overgelaten. Zo krijgen ze de kans van de paarden te leren.
Na de rondleiding was er gelegenheid om met elkaar van gedachten te wisselen over de rol van het paard, de manier van werken met de paarden in de opleiding. Hoe in de opleiding wordt gewerkt aan de relatie-, uitvoerings-, en pasvormdriehoek. Als student kon ik een woordje meespreken over mijn ervaring binnen de opleiding.
Workshop:
Er stonden spelletjes en zelfervaringsoefeningen rond en op het paard op het programma.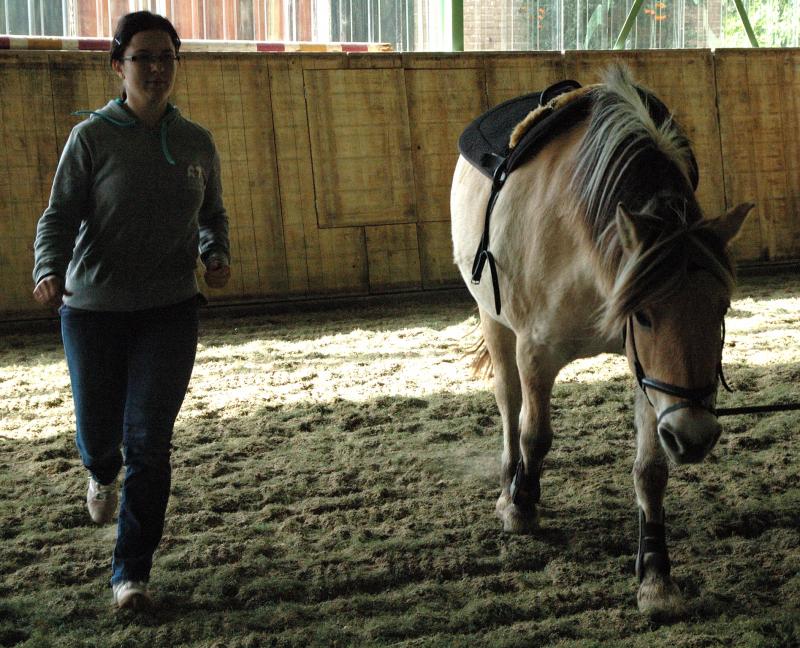 Prisca zette hierbij haar beste beentje voor.
Voor de deelnemers was het in het begin wat onwennig, maar al snel zorgde de activiteiten voor veel ontspanning en plezier. De bereidheid tot uitproberen en samenwerken ontstond zo spontaan.
Eerst de opwarmspelletjes, daarna stilaan de samenwerkingsoefeningen en van daaruit overgaand naar de zelfervaringsoefeningen. Iedereen kreeg de gelegenheid ervaring op te doen met de equitherapie zoals die binnen de SHP wordt aangeboden. Van deze gelegenheid werd grif gebruik gemaakt.
Als afsluiting werd gevraagd een tekening te maken over de ervaringen, zoals dat ook in de opleiding gebruikelijk is. Dat verzoek werd met volle inzet ingewilligd.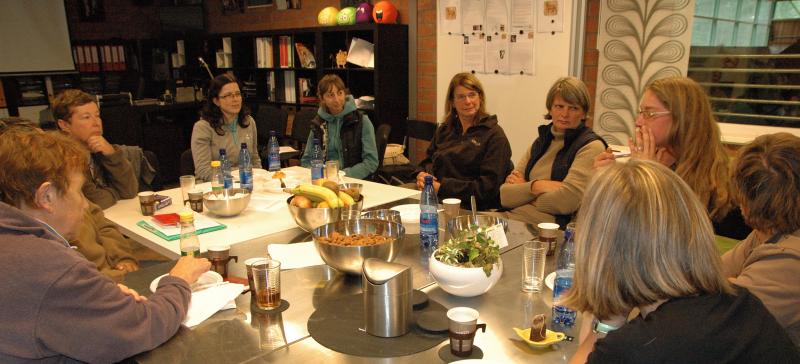 Wat mij het meest is bijgebleven dat ik geen van de mensen kende toen ik die ochtend naar Soerendonk reed. Na de middag met Prisca was het ijs gebroken en een team gesmeed dat energie had opgedaan om de volgende dagen hard aan het werk te gaan.
Wat heb ik geleerd in deze bijscholingsdag:
· Mijn kennis over de opleiding is verdiept.
· Er is een beroep gedaan op het verwoorden van mijn ervaringen bij de opleiding.
· Ik ben getuige geweest van de rol van het paard in het bereiken van een constructieve dynamiek in een groep. Vooral dit laatste was een speciale ervaring.
Maria van Eijk
A students experience in the EU working group
On 7-8-9 octobre 2011 a international meeting took place in Soerendonk Holland.
I'll tell you about my experiences on the 7th of octobre. That day there was a workshop.
Agenda: a guided tour and a workshop with the subject Training SHP Equitherapy.
Halfway the morning the first participants from Belgium, France, Germany and Slovakia arrived. After a nice cup of coffee the guided tour startet.
Ulrike Thiel guided her guests around her domain. Everybody was interested in, as well the buildings, as the herd of horses and how they were kept.
It came clear that our trainingschool is also an example for the keeping and the treatment of the therapyhorse. The therapyhorses are traininghorses as well. During the training the students learn from the horses.
After the tour we discussed about the training, the role of the horse in the training and the way of working with the horse in the training.
Our students learn to continually develop a triangular relationship as therapist, beween himself, the horse and the client during the therapeutic process. As a student I could tell about my own experiences in the training.
Workshop.
The programm with the horse Prisca:
Movement, perception of self awareness and communication exercises and games, alone and with partner(s) during a movement dialogue with the horse.
At the beginning the participants had to adjust a little, but soon enough the activity's were fun and everybody got relaxed. Everybody spontaneously was willing to try and cooperate.
Everyone got the opportunity to experience the equitherapy as required by SHP.
At last everyone could express the experiences with a drawing. In training we also learn to express our experiences in that manner. Also we learn how to talk about the clients' drawings with our clients.
My experience of the day was:
I had not met anyone before, the participants were strangers to me. After the workshop with the horse I was at ease with the company. Within the team, we gained positive energy to go to work in the following weekend.
What did I learn
· My knowledge about my own training has increased.
· I had the opportunity to tell about my own experiences in the training with foreigners.
· I've witnessed the rol of the horse in achieving a constructive dynamics in a team. That especially was a wonderful experience.
Klik
hier
om je af te melden van de nieuwsbrief